Materiality Matrix
In 2019, CGD has reviewed material topics in accordance with the materiality principles defined by the Global Reporting Initiative (GRI), through the deployment of a comprehensive approach with the following main goals:
1) Identifying future trends, new risks and business opportunities for generating value in the medium and long term;
2) Identifying the expectations of internal and external stakeholders for economic, environmental and social matters;
3) Assessing the impact on business of the main non-financial risks;
4) Monitoring market regulation challenges;
5) Structuring and improving the scope of the Sustainability Report.
Methodological approach of the materiality assessment
In order to have a holistic view of all relevant topics pertaining to environmental, social and governance matters, a systematic, comprehensive and rigorous process was implemented, based on the following premises:
1) Consulting with stakeholders to understand their main expectations;
2) Identifying the main trends of the financial market trends at an international level;
3) Acknowledging future challenges and opportunities identified by leading institutions in the financial sector.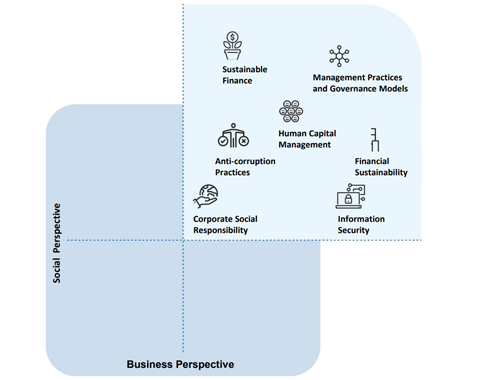 Meaning of each material topic
Financial Sustainability: To be a financially solid company and to ensure the highest profitability for the Shareholder.
Information Security: To manage customer data and other third-party confidential information according to the principles of confidentiality, caution and integrity, and to protect against illegal external attacks.
Management Practices and Governance Model: To ensure transparent management practices in line with ethical standards, as well as to implement good practices from governance and independence models pertaining to the Management Bodies.
Human Capital Management: To foster the employees' development, training and career advancement, with a special emphasis on managing and retaining talent, safeguarding fair and dignified working conditions and the respect for Human Rights for everyone working for CGD, including suppliers and outsourcers.
Sustainable Finance: To incorporate environmental and social aspects into all organization levels, namely by supplying sustainable products, assessing non-financial risks, drafting financing policies to support the company's energy transition so as to promote projects with environmental and social criteria allowing for the expected long-term economic recovery.
Anti-corruption Practices: To ensure the implementation of the best methodological practices and tools to combat corruption, money laundering and other common unlawful practices in the financial system, through the enforcement of regulations and laws.
Corporate Social Responsibility: To draft up strategies, policies and measures fostering a more responsible and inclusive business, namely within the environmental and social spheres, thus promoting value generation for the company and other stakeholders.