Stakeholders
Stakeholders and materiality
Based on a diversified range of communication channels, Caixa fosters a regular engagement with its main stakeholders, contributing towards a comprehensive identification of their needs and expectations.
As part of the definition of its 2021-2024 Sustainability Strategy, Caixa developed a consultation process based on the United Nations' 17 Sustainable Development Goals.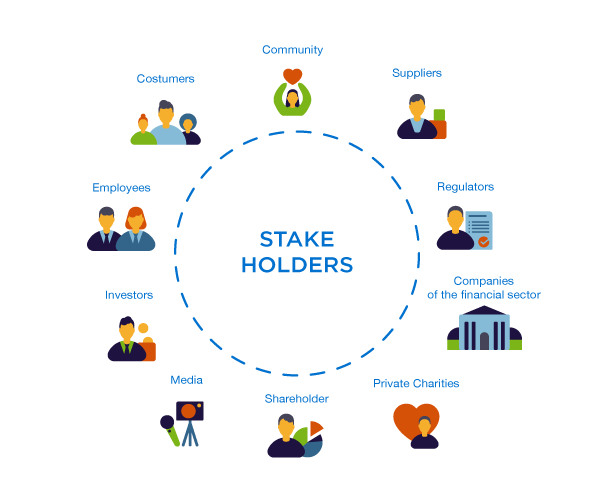 As a result of the materiality analysis completed in 2021, nine topics considered relevant to Caixa's internal and external stakeholders were identified. The materiality matrix shows the relevance of each topic from society's perspective and from Caixa's internal business perspective and is used for outlining its sustainability strategy.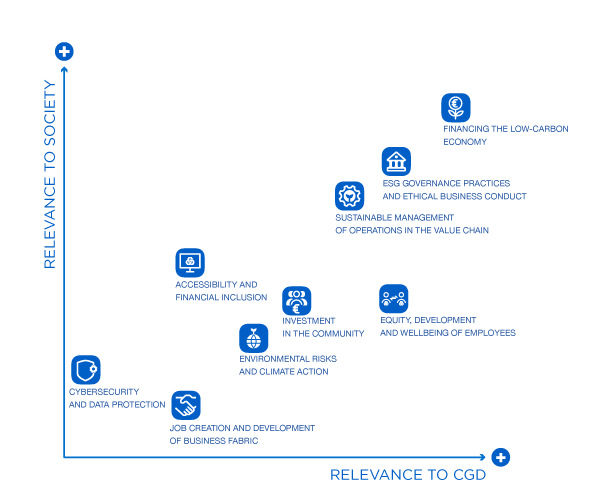 Financing the low-carbon economy
Financing the transition to a climate neutral impact economy in a fair and inclusive way.
ESG governance practices and ethical business conduct
Ensuring the integration of ESG principles into governance practices ensuring the highest standards of ethics and transparency.
Equity, development and well-being of employees
Promoting the development and well-being of employees, safeguarding a culture of diversity and equal opportunities.
Investment in the community
Supporting the development of the communities in which Caixa operates, contributing to create social and economic value.
Sustainable management of operations in the value chain
Promoting the development of projects and initiatives that contribute to reducing the environmental impact associated with Caixa's operations, influencing the value chain.
Accessibility and financial inclusion
Accelerating digital transformation as an agent promoting the population's inclusion and financial literacy and reducing inequalities in the access to financial products and services.
Environmental risks and climate action
Ensuring an ecient climate risk management and the incorporation of ESG factors into financing and investment policies and analyses.
Cybersecurity and data protection
Ensuring the confidentiality, integrity and security of customer data, as well as the management of cyber risks.
Job creation and development of the business fabric
Providing products and services that meet the needs of Portuguese families and the development and resilience of the business sector.