Strategic Areas
2021-2024
Sustainability Strategy
Caixa is committed to developing its activity in a sustainable manner by integrating environmental, social and governance principles in its culture, strategy and operations.
Developed in alignment with the 2021-2024 Strategic Plan as one of its six transformation pillars, the Sustainability Strategy embodies Caixa's ambition to become the leader in sustainable finance in Portugal, supporting the transition to a low-carbon economy and financing projects with a social impact on people's lives.
The 2021-2024 Sustainability Strategy is based on five strategic areas of action.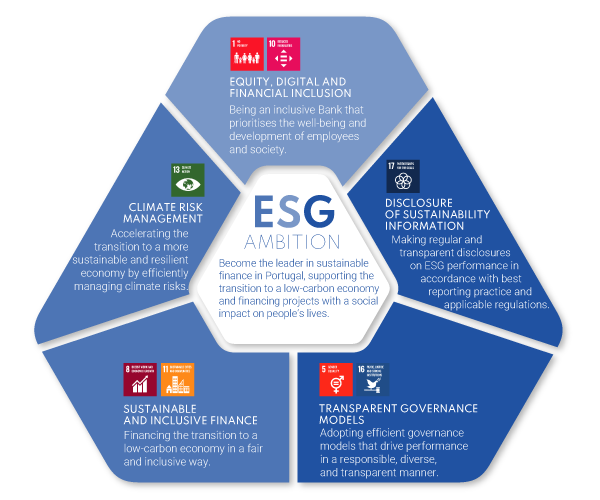 The 2021-2024 Sustainability Strategy is driven by a progressive and dynamic action plan, which relies on the direct participation of different internal structures.
In the first year of implementation of the Sustainability Strategy, the rate of completion of the actions planned for 2021 was 76%.
For more information, please refer to Caixa´s anual sustainability report.